2015 Home Vineyard Pinot Noir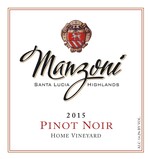 Wine Specs
Appellation
Santa Lucia Highlands
2015 Home Vineyard Pinot Noir
The Vineyard
The Manzoni Home Vineyard, in the "Heart of the Highlands," is an ideal spot to grow world-class Pinot Noir. Here the cool Region I climate is heavily influenced by winds off nearby Monterey Bay. The porous, granitic, shaly loam soils recall this noble grape's Northern Rhone heritage, stressing the vines, thus providing low, concentrated yields. The Home Vineyard is planted to three Dijon clones: 115, 777 and the proprietary "La Tache".
Winemaking
Our Pinot Noir grapes were destemmed into open top fermenters; we induced primary fermentation with two specialized yeast strains known for their ability to maintain color and produce intense flavors. After fermentation, the wine was pressed into a combination of new and one year old French oak barrels where it matured for 10 months.

Tasting Notes
The 2015 vintage yielded wines of excellent concentration and ripeness balanced by acidity and soft tannins. Aromas of dark cherries, blackberry and smoky, spicy oak rise out of the glass. Cassis and hard spices are supported by concentrated red and black berries. In the mouth, this wine has a velvety richness and fine, ripe tannins that support the dense, ripe and concentrated fruit. Red plums and berry compote are followed by firm acidity that keeps the wine fresh and balanced. The wine finishes with hard spices and fine vanilla flavors with hints of toasty oak. A great combination of New World ripeness and old word structure. Ripe tannins support a core of rich fruit in this opulent and larger framed wine. All the flavors hang together in great balance for this intensely flavored and well-heeled Pinot Noir.
Product Reviews
Patrick Zimmerman
(May 8, 2017 at 10:56 AM)
I consider this wine to be an excellent example of the superiority of SLH Pinot Noirs! The color is a deep, rich garnet. I get an aroma of wet earth, and a hint of strawberry, pineapple and spice. The flavor is the same strawberry with some vanilla, chocolate, soft spice and oak. All the flavors hang together in great balance, supported by soft tannins and balanced acidity. The lingering finish is very smooth with a suggestion of vanilla and oak. I paired this wine with a slow-cooked, falling off the bone lamb shank. It was absolutely incredible! The only problem is that you will need two bottles - one to enjoy in the back yard while the lamb shanks are cooking! At a price of $35 ($28 Wine Club), it is a great value and well deserving of wine review accolades.
Bill Robertson
(Nov 21, 2017 at 6:41 PM)
I have enjoyed many Manzoni Pinot Noirs over the years, and hands down, this is my favorite. Easy on the palate, pairs well with just about anything as it is not heavy, overbearing.
Shop

Join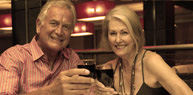 Visit